VĐV: Justin Bogle
Xe: 2019 KTM 450SXF
Địa điểm: Sân vận động AT&T, Texas, Mỹ
Photographer: Brian Converse
Điểm tin 2 thì: JESPER KLINK'S SEA OF HONDA TWO-STROKES
MOTO | TRIVIA
Who is this mini-rider that raced the U.S. Open of Supercross?
MXA BUILD | 2005 YAMAHA YZ250
BIG HITTERS RIDING OUTDOORS AT FOX RACEWAY
Broc Tickle was out riding aboard his Alpinestars KTM 450SXF.  Feld says that something should be announced soon about Tickle's suspension. 
A better look at his GoPro contraption. 
THEY SAID IT | 2019 Arlington Supercross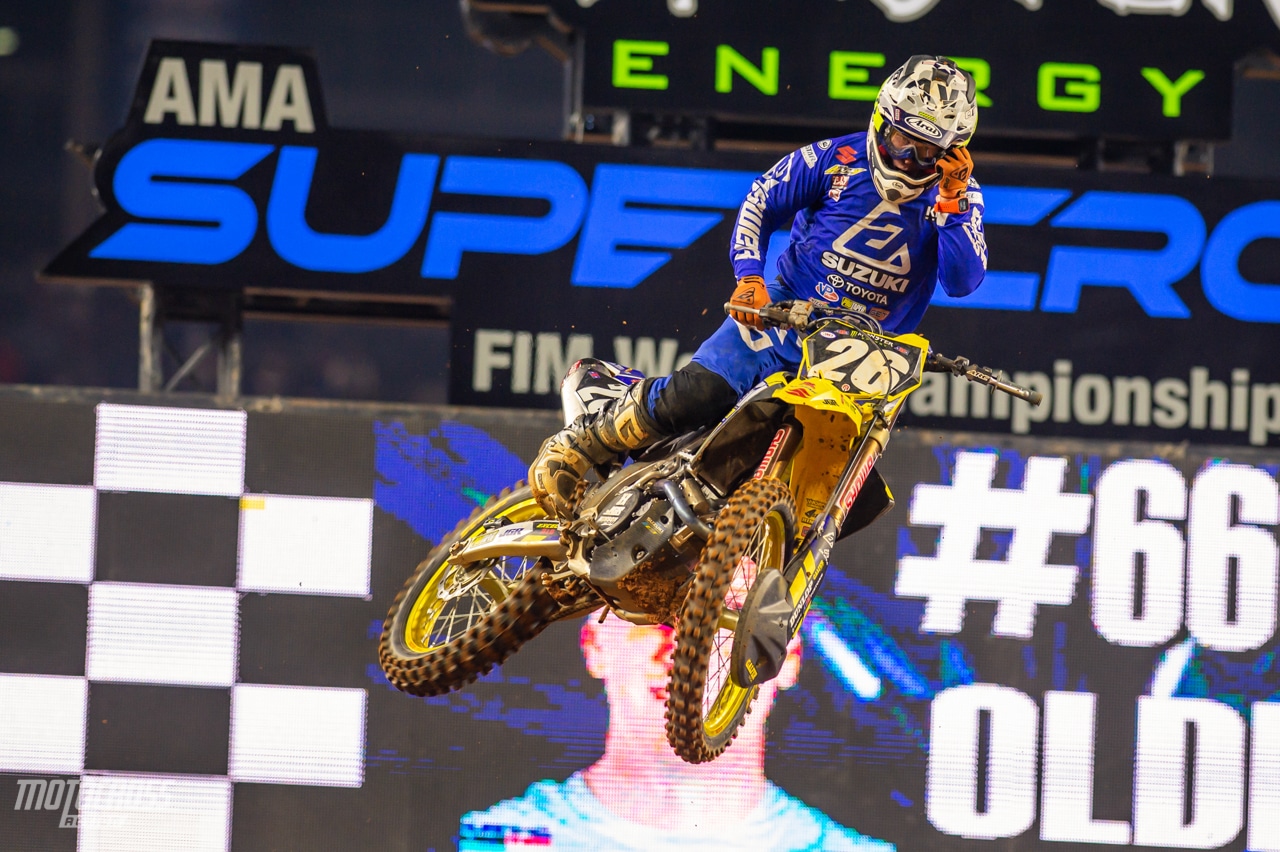 Alex Martin: "Thật tuyệt khi được trở lại đua xe ở Texas lần đầu tiên sau ba năm. Buổi luyện tập đã diễn ra tốt đẹp.Tôi đã vượt qua vòng loại một lần nữa như cuối tuần trước. Tôi thực sự hạnh phúc với việc chạy xe và vượt qua vị trí thứ ba trong lượt đua gay cấn của tôi. Tôi đã vào-côn-kép (double-clutch) chiếc RM-Z250 từ lúc xuất phát và xuất hiện ngay trong top10. Tôi đã lên đến thứ tám ở vòng đua thứ hai khi [Mitchell] Oldenburg đã đẩy tôi ra trong một lòng cua tay trái. Tôi vật lộn để đi chạy tiếp và cứu vãn ở vị trí thứ tám. Tôi không hài lòng với kết quả cuối cùng, nhưng tôi cảm thấy thực sự tuyệt vời trên chiếc xe này. Tôi không thể chờ đợi đến ngày ở Detroit nữa rồi"
Chad Reed: "It was a tough weekend. The speed wasn't there for some reason. I'm disappointed in my performance. I know that I'm better than 11th place. We will work on some things this week and then hopefully come out swinging in Detroit."
Chad Reed: "Đây quả là một ngày cuối tuần khó khăn. Tốc độ chạy của tôi đã không còn vì một số lý do. Tôi rất thất vọng về phong độ của mình. Tôi biết rằng tôi đã chạy tốt hơn với vị trí thứ 11 của mình. Chúng tôi sẽ làm việc với một số thứ trong tuần này và sau đó hy vọng sẽ ra sân ở Detroit."
Justin Hill: "Tôi bị đuổi việc. Tôi có tốc độ, và tôi cảm thấy như tôi đang thực hiện những cải tiến lớn với sự khởi đầu của mình, cũng như phong độ của tôi trong vòng đua mở đầu. Đã đến lúc để hoàn thành nó. Tôi đã phát ốm khi nhìn vào những anh chàng nói chuyện trên bục giảng. Nó cần phải là tôi bây giờ"
Austin Forkner: "Điều khó khăn đối với tôi là cố gắng và chạy xe trên line của mình. Tôi đã tập trung được khoảng năm phút, nhưng tôi có rất nhiều thứ tôi có thể làm trong tuần này để vào Vòng 3. Tôi cảm thấy như mình đã vật lộn một chút và vẫn chiến thắng. Thật tốt khi biết những gì chúng ta có thể đi vào tuần và làm việc. Tôi không thể chờ đợi để trở lại vào tuần tới tốt hơn được nữa.
Martin Davalos: "This race was one I wanted to get through healthy and I was able to do that. It was great to show that I'm capable of being up with the front runners and bounce back. I would love to get a better start next weekend and really contend for a podium spot."
Justin Barcia: "In the main event, I was on the far outside and got a really good jump off the gate. I was right in it, but I was just so far outside I got pushed out and went into the hay bales and started last. I went from last to seventh. I was riding well, but again wasn't able to make things happen that I needed to happen. I need to get a better start and put myself in front of the pack where I belong. We're moving on from this weekend and will get ready for Detroit."
Aaron Plessinger: "We made big steps in the right direction at Dallas. The bike worked pretty good all day, I just need to get my starts dialed in. We're going to go off to Florida and ride with Justin for a little bit and hopefully can build some intensity. All in all, I'm pretty happy with tonight and taking steps in the right direction. We'll move forward from here, and on to Detroit."
Justin Cooper: "It feels great to get two podiums in a row. Compared to last year we were sitting out the second round, so to start the season out like this is pretty cool. The track was pretty tough today, we just had to take what we could get out there. Still, big improvements, and we're not going to stop here. The bike was great all day again. We'll just keep searching for new things and keep trying to better our self each time we get out on the track."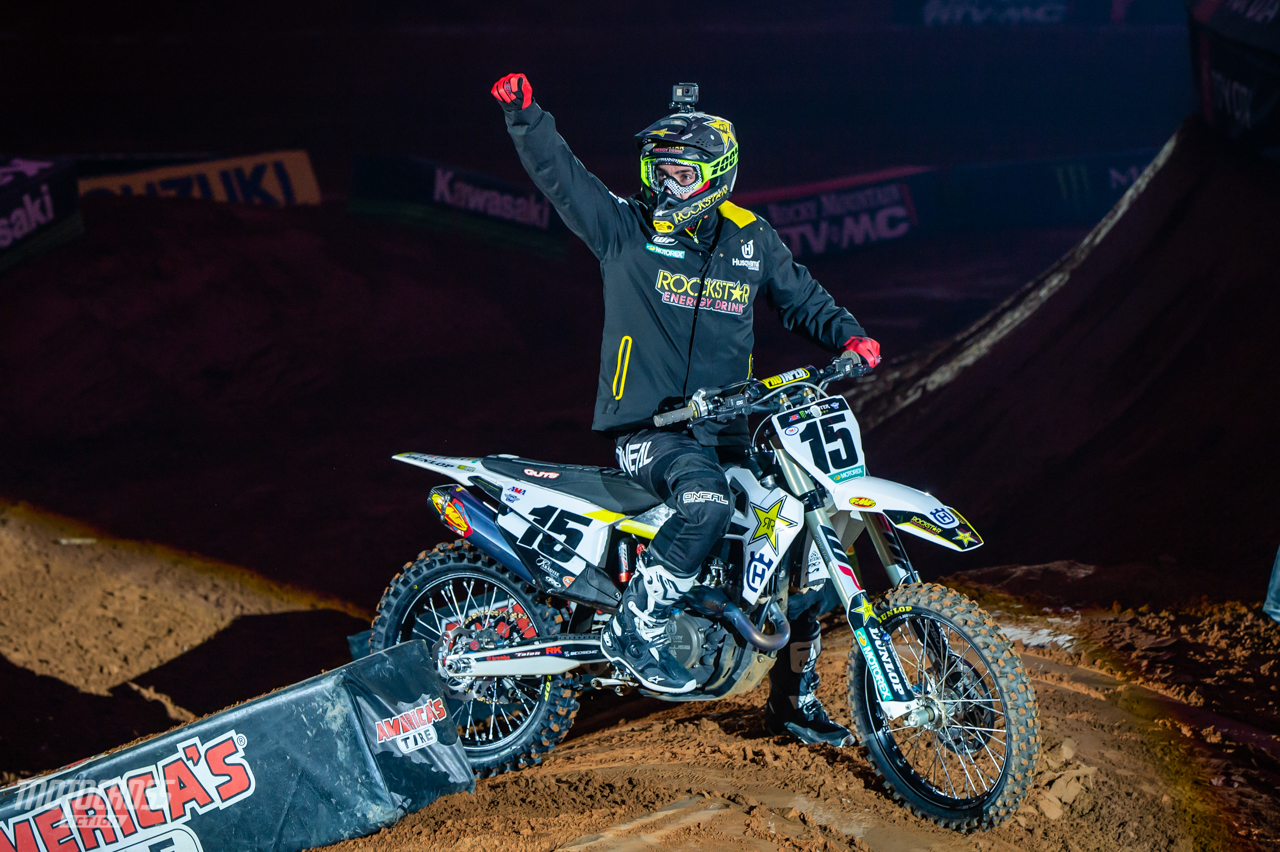 Dean Wilson: "My night was not amazing but not too bad either," Wilson said. "I think the best part of my race was that I came through the pack really well and I passed a lot of good riders. By the time I got to the position I was in, there was really no one in front of me that I could catch so I ended up with an eighth. It's not what I want but the beginning was promising with the speed I had. I just need to get a better start and get up there and we'll be good. I'll take it but we want to get on the podium for sure."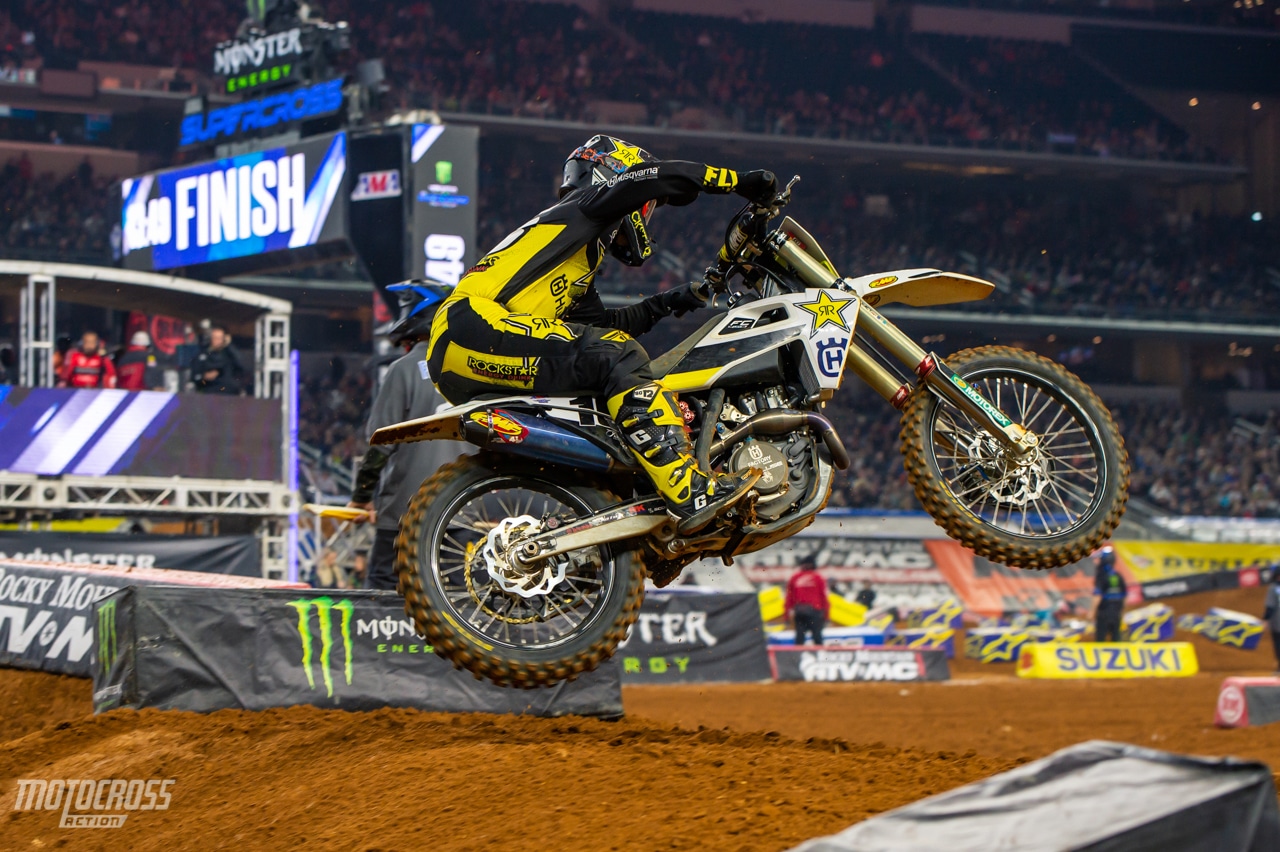 Zach Osborne: "All-in-all, it was a decent day for my 450SX debut and there are some positives I can take from it. The result is obviously not what I wanted – I'd like to be top-10 or top-five coming back – but right now I think if I can get a good three or four weeks under my belt and really grind some motos in, I think it would be good. I've been riding for eight days after six weeks of injury and I feel like I've got a lot left in the tank as far as me being comfortable and being able to go out there and just hammer laps. I think prior to today, the most laps I've done in a day was something like 35, so it's a big jump to today's 55 or so. We'll come back next week and just keep building."
Cooper Webb: "Tonight was incredible! I just never gave up out there. It was incredible for it to come to the last lap – the last turn even – and to be able to win with such a close finish was absolutely insane. That's probably the best race ever for me."
Marvin Musquin: "I had a good pace and I felt comfortable but then I started tightening up a little bit and that's when Cooper caught me. It was too much playing defense for me and he was right there, and then he got me. From there, I had nothing left so I salvaged a third place. It's good, but I was in a good position for better, so I am a little bit disappointed with that but I'm also happy that we were able to turn it around after the heat race."
Ken Roczen: "From the first few races this year to now, I've made some good steps forward. I've changed up some things in my program and put in some solid effort during the week, and I feel like it's showing on the weekends. Of course it's disappointing to put in that effort the entire moto and then give it away in the last turn. The turn before the whoops and in the whoops themselves is where I lost the most time during the main event. If I could've done that better or worked better with the bike, I feel like I could've kept my flow a bit better and had more of a gap between first and second. Honestly though, I'm just having a lot of fun; I haven't been in a championship chase in a long time, and it's really good racing. There's always room to improve, and I don't have a win yet, but we've been super-consistent. I'll just use this as fuel, think about the feelings I had on the track, and then make a plan for the next race. I think we're in a good spot."
MICHAEL MOSIMAN'S SAN DIEGO MUDFEST GOGGLES
Josh Mosiman's brother and factory Husky rider Michael Mosiman shared his lime infested goggles with us after they dried out. Here are a few pics of them.
Michael still had a few tear offs left on his Scott goggles. 
The top of them are packed up with dirt. Would you reuse these?
CASELLI FOUNDATION | MOTODOFFO WINERY FUNDRAISER | SAVE THE DATE
Saturday, June 8th, 2019 6th Annual MotoDoffo Caselli fundraising event at Doffo Winery in Temecula, California!
WHAT THE MXA WRECKING CREW IS UP TO
We got our hands on the 2019 KTM 450SXF Factory Edition last week. For a complete list of changes check out the link First Look! 2019 KTM 450SXF FE link. 
MXA's assistant editor, Josh Mosiman got to shake it down.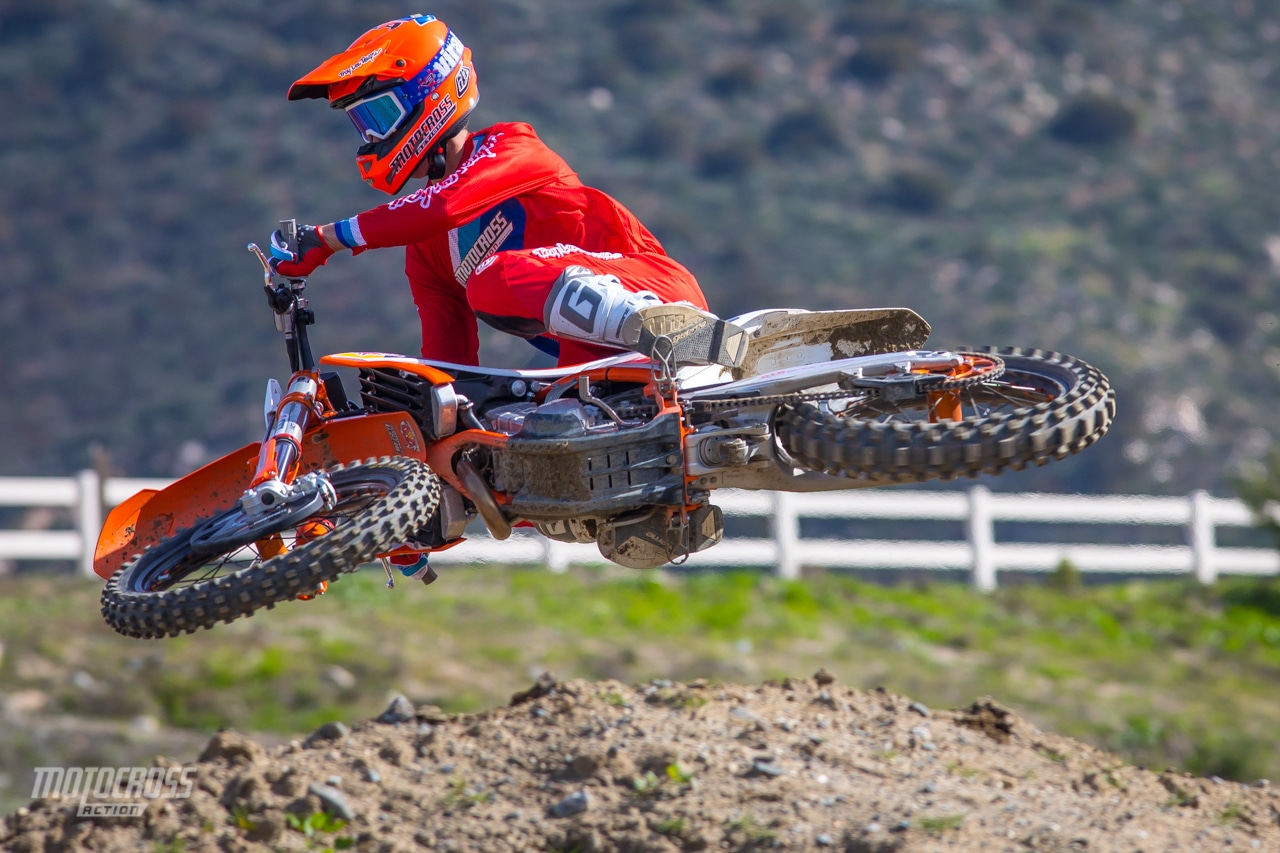 For the $11.099 price tag and the limited changes to the chassis and engine we think is it a bit on the pricey side. 
Early in the week we got to shake down KTM's twin brother the 2019 Husqvarna FC450 Rockstar Edition. Josh Mosiman got to ride the KTM and Husky back to back to find similarities and differences between the two. 
Jay Clack built us a 2005 Yamaha YZ250 project bike. Sure does look like a 2019 model, doesn't it?
Our chief test rider, Dennis Stapleton hard on the brakes on the old dog. 
FMF fire power and Hinson complete clutch. 
Dennis making it look easy on the smoker. 
Dennis and Josh talking about the which bike is better. What would you pick? Two or four?
Josh doesn't fit the MXA test rider mold with size 9 boots. Sidi equipped him with some size 11 boots as he is racing the WORCS race in Havasu in a few weeks for the Husky offroad team. 
POLISPORT FORTRESS SKID PLATES
Press Release: Polisport releases the Fortress Skid Plates. These highly durable and resistant injection molded skid plates will provide full coverage to the engine and frame rails; being made of plastic the Fortress Skid Plates are quitter than metallic protections and have a slim fit to prevent mud, dirt or rocks to build up between the protector and the frame. Fortress is also available with and without linkage protection.
The mounting system is also a highlight, especially for the four-stroke models where the installation is easy, using a quick install lever clamp (check diagram below).
This new range will be released for selected models of KTM and Husqvarna, will be available in orange, black and white.
FIRST RIDE | 2019 HUSQVARNA FC450 ROCKSTAR EDITION
Ảnh cũ